We're fast approaching the third concert of the 2015-16 season, Modern Wind Symphony, a joint program with the Brooklyn Wind Symphony and Grand Street Community Band. GSCB's program will feature music inspired by "the third stream," a fusion of classical and jazz-influenced works including Blue Shades by Frank Ticheli and Asphalt Cocktail by John Mackey; and BKWS will be performing Andrew Boss's 2014 work, Tetelestai- A Symphony for Wind Ensemble, among other contemporary selections.
Tasked with combining and interpreting such a varied concert program was artist and musician Jill Austen. Jill is a flutist with the Brooklyn Wind Symphony and has been playing with the Metropolitan Music Community since their very first rehearsal! As an accomplished music educator, musician and artist, Jill has worked and taught around the US, Mexico and the Caribbean and currently has some of her art work displayed at Columbia University.
Jill describes her paintings as "quirky and whimsical, and always colorful." Her painting, titled Metaphoric Wind Ensemble, is a combination of both ensembles' concert themes, and incorporates Jill's love of nature and floral motifs. Read on to hear about the challenges Jill experienced creating this piece and where she finds inspiration for her art, and see her process and more of her work in the slideshow below!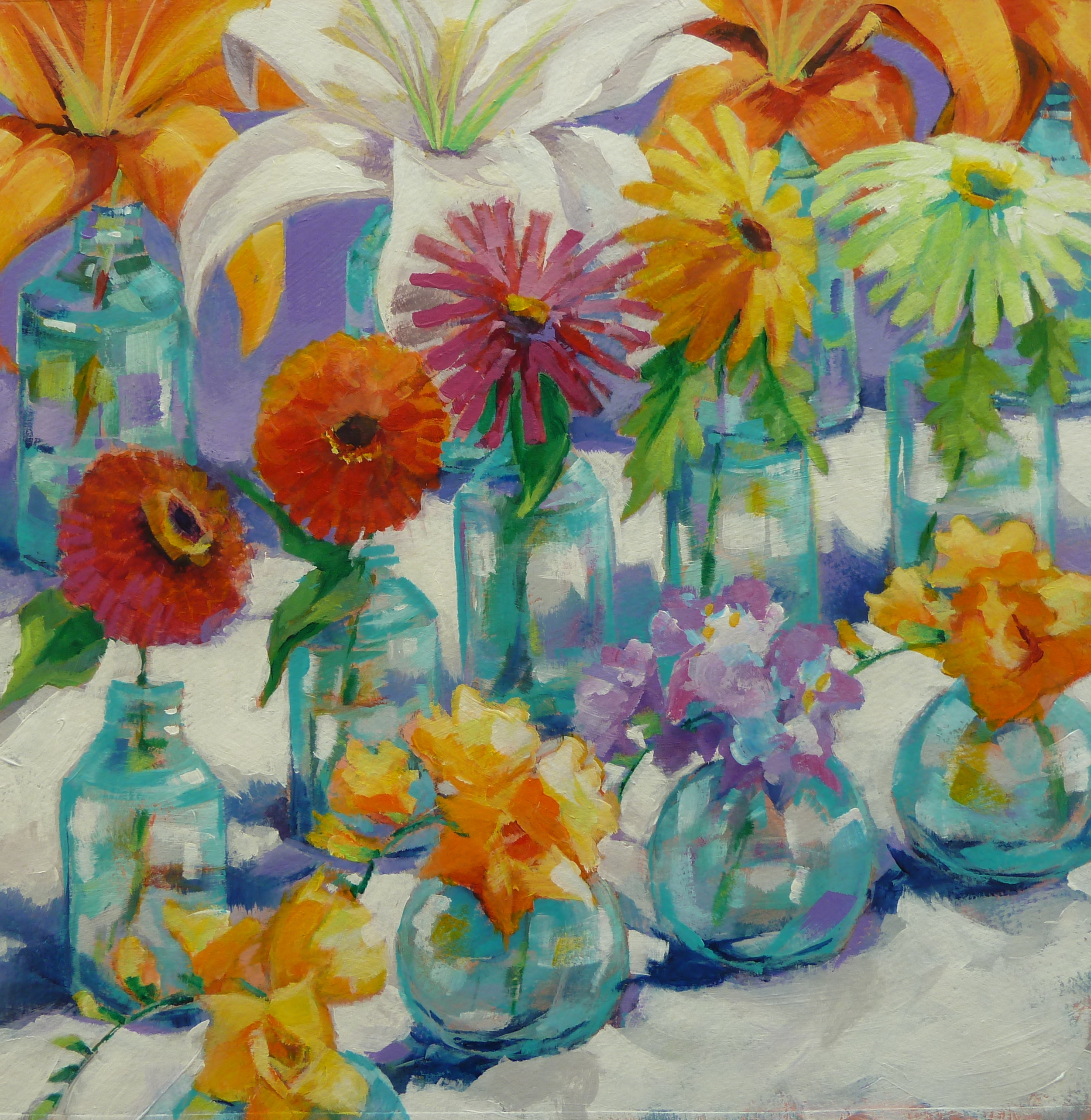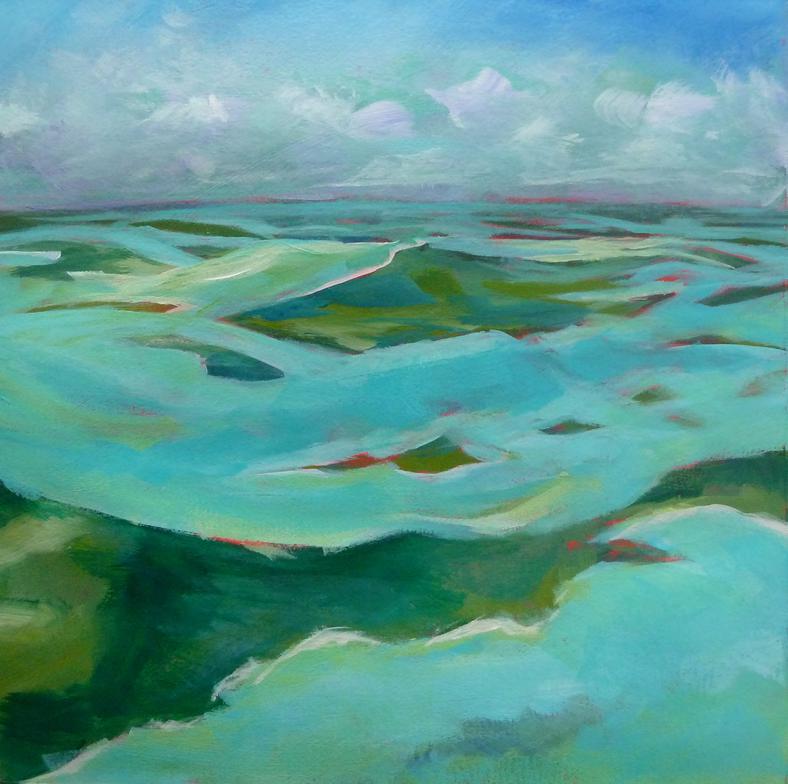 Finding a common thread...
"At first it seemed an impossible commission. Both programs, although extremely creative, had little in common. On the GSCB side, wonderful representational possibilities lie in the classical/jazz fusion of their third stream music line-up. However, the BKWS program, which features the extended complexities of a new symphony (Tetelestai), was not so artistically straightforward. I did not want to focus on a single piece or musical style at the exclusion of others. Visual metaphor seemed the way to go."
Getting Started...
"First, I listened to recordings of the music and jotted down ideas in the form of pencil sketches. While I played around with several ideas, I kept coming back to the flowers in small bottles. [Then] I did a preliminary study in watercolor. Satisfied I had worked out the composition, I sketched the final version in charcoal over a peach-toned underpainting. I began by focusing on the individual blooms and adjusted for color hue and intensity as the work progressed. Next, I concentrated on achieving "believable" transparent bottles - always a fun challenge - and finally, I heightened the contrast of the bright light and purple shadows."
A Floral Symphony...
"Flowers in small bottles are arranged like the rows of a musical ensemble. Single blooms indicate the individuality of performers within the group, but work together in a larger, cohesive composition, like musical collaboration. Bell-shaped lilies in the last row stand in for brass instruments: the single white lily is a reference to the biblical theme of the [Tetelestai] symphony. Overall, bright colors evoke the many shades of jazz and the contemporary sonorities of both GSCB and BKWS programs."
Staying Inspired...
"I'm never at a loss for projects, especially if they involve collaboration and travel. I am fascinated by the interconnectedness of music, art and and poetry. On December 31, 2015, I completed a challenging year-long project, The 365 Series, for which I completed a painting a day. I find inspiration for painting in traditional subjects--landscape, seascape, still life, floral. Nature is fond of sculptural beauty and unexpected juxtapositions of form and color. I simply strive to interpret those which I find most lyrical."
See much more of Jill's work on her website, JillAusten.com